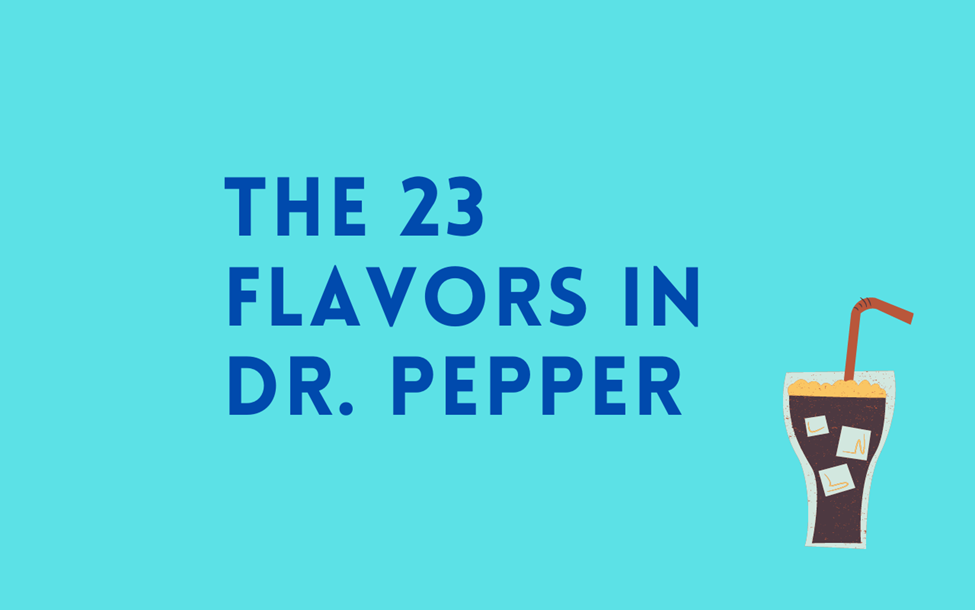 Dr. Pepper is a carbonated drink that holds a delicious and one-of-a-kind taste; in fact, it is a favorite beverage of most pop drinkers. Many users often wonder what makes this drink so ubiquitous. What are its flavors that smell so good? Well, the reason is its blend of 23 flavors!
Millions of Dr. Pepper's fans speculate those unique 23 flavors: almond, blackberry, black licorice, carrot, clove, caramel, cola, ginger, juniper, tomato, lemon, cherry, molasses, nutmeg, prune, plum, pepper, orange, root beer, rum, raspberry, amaretto, and vanilla. The amazing blend of these 23 flavors makes Dr. Pepper pop the most famous, flavorful, and fantastic drink!
Do you want to dig out more about Dr. Pepper flavors? Then you need to walk through this article! Here we will go over its unusual flavor, astonishing taste, shelf life, and numerous other facts.
Let's go ahead!
Unique Flavors Of Dr. Pepper Drink
Dr. Pepper was invented in 1885; with 23 distinctive flavors, it has been delighting Texans' taste buds for more than 130 years. Since its creation, the soda has developed to multiple flavors, including Diet Dr. Pepper and Dr. Pepper Cherry, but the original will always be the masterpiece.
The mix of 23 flavors smells so and so the pharmacy where Dr. Pepper was created. Along with the ingredients, Dr. Pepper's taste is also better than Pepsi or Coke as it isn't ruined by too much sugar. 250ml of Dr. Pepper holds 12g of sugar, which is relatively high but not as high as Coca-Cola, which has 27g, and Pepsi, which has 28g per 250ml.
Although the Dr. Pepper drink's company did not reveal what flavors it integrates to manufacture the drink; however, fans of the soda globally have assumed what the flavors can be.
The list of the 23 Flavors In Dr. Pepper (in alphabetic order) is mentioned below:
Almond
Amaretto
Blackberry
Black Licorice
Caramel
Carrot
Cherry
Clove
Cola
Ginger
Juniper
Lemon
Molasses
Nutmeg
Orange
Pepper
Plum
Prune
Raspberry
Root Beer
Rum
Tomato
Vanilla
Dr. Pepper has a deep and bold flavor. It is spiced with what tastes like a mixture of mint, faint licorice, and allspice.
Dr. Pepper Beverage And Some Of Its Secrets
The uniqueness of Dr. Pepper is not only its flavor, but its bold taste has also won many hearts.
Let's decipher some of the secrets of this drink!
● The Taste of Dr. Pepper
It is tough to describe the Dr.Pepper taste—some people consider the drink a Cherry Cola, but many think it is not the correct analysis of the drink. It is a striking combination of sugar, acid, carbonated water, preservative, and a few other hidden ingredients. When you think what Dr. Pepper really tastes like, it is somehow a peppery kick of the soda that many believe rises from pepper itself; moreover, the blend of clove, black licorice, root beer, and ginger provide the subtle spice factor to Dr. Pepper.
Whether you consent with the public unanimity on Dr. Pepper's flavors or not, no worries! You can definitely pick up a bottle and try to solve the mystery by yourself for fun. You might be stunned at what tastes your palate finds concealed within the soda's proprietary secret mix.
● What Ingredients Are In Dr. Pepper?
The ingredients of Dr. Pepper are sugar, carbonated water, color, sweeteners (Acesulfame K, Aspartame), preservative (Potassium Sorbate), phosphoric acid, flavorings, and caffeine.
● How Can You Serve It: Hot Or Cold?
Besides the flavor, another amazing fact about Dr. Pepper is that you can serve it in both cold and hot forms. In winter, you can serve warm Dr. Pepper, while you can enjoy a cold one in summer. Well, you can also make this drink at home in less time and by exerting the least effort. You will need a lemon, a mug, soda, and a saucepan to make this drink.
First, pour the soda into the saucepan, then heat it 180 degrees. Once you find the soda is heated up, pour it into a mug; squeeze a slice of the lemon in it to lift its flavor.
Undoubtedly, Dr. Pepper is the only fantastic and world-recognized soda pop that can be enjoyed both as a hot and cold drink.
● Shelf Life Of Dr. Pepper
Dr. Pepper's shelf life is based on the soda container. If Dr. Pepper is in a can or glass, the shelf life is about nine months; however, the shelf life drastically drops to three months in plastic bottles. The shelf life also relies on how long you've had Dr. Pepper and whether you have opened it or it is closed.
● Dr. Pepper And Other Drinks
Multiple consumers have a love-hate relationship with Dr. Pepper. Can you believe it – some can't stand the taste of it, while many seem to enjoy it just as much. It is a famous soft drink usually of dark colors like cola but extensively varies within the taste department.
Currently, the Keurig-Dr. Pepper soft drink is prepared only in the US. South Korea and Europe have Coca-cola manufacturing companies. In contrast, Oceana and Canada have Pepsi Co. to manufacture and distribute the soda. These companies are each other's competitors, all three profit off of the Dr. Pepper name.
● Does Dr. Pepper Have Caffeine?
Yes, Dr. Pepper includes about 41 mg of caffeine in one ounce can. The caffeine value can differ depending on which Dr. Pepper you buy, but the average caffeine ranges from 39 to 42 mg.
However, if you search for a strongly caffeinated drink, a standard coffee cup would be a far better choice than a Dr. Pepper drink.
● What is Dr. Pepper's Slogan?
To widen its appeal, the slogan of Dr. Pepper keeps updating as in 1960 it was tagged as"America's Most Misunderstood Soft Drink." In the 1970s-77, the slogan was "the most original soft drink ever in the wide world."
Then in 1977, Dr. Pepper's promotion was marked by the prominent tagline "Be a Pepper" campaign, pursued by "Be You." There's just more to it. This is the Taste.
● Who owns Dr. Pepper 2020?
Dr. Pepper/Seven Upis still available as the brand name of 2020. On July 9, 2018, Keurig bought the Dr. Pepper Snapple Group for $18.7 billion.
● What Are Dietary Brands Of Dr. Pepper?
Dietetic Dr. Pepper
Pepper Free
Caffeine Free Dr. Pepper
Dr. Pepper Ten
● Flavor Variations Of Dr. Pepper
Following are the flavor variations of Dr.Pepper:
Dr. Pepper Red Fusion
Dr. Pepper Cherry Vanilla
Dr. Pepper Berries and Cream
Dr. Pepper Cream Soda
Diet Cherry Chocolate Dr. Pepper
Dr. Pepper Cherry
Heritage Dr. Pepper or Dr. Pepper Heritage
Dr. Pepper Vanilla Float
Dr. Pepper Dark Berry
UK Variation
Dr. Pepper Zero
German Variation
● A Quick Background Discussion Of Dr. Pepper
Very first, Dr. Pepper was invented in 1885 by Charles Alderton, a pharmacist in Waco. Soon, it became the most loved drink in the USA, and luckily, it continued to dominate the pop drink industry.
The idea for the drink itself came to Charles Alderman inside a drug store. The customers loved the sweet-smelling soda fountain in the drug store. Charles planned to recreate that soda fountain and add pizzazz to it. At the end of this ambitious dream, a drink known as Dr. Pepper.
Our Summary
Dr. Pepper is a carbonated drink that beats many other drinks due to its 23 flavors, terrific taste, and ingredients. The long list of flavors: almond, blackberry, black licorice, carrot, clove, lemon, caramel, cola, ginger, juniper, cherry, nutmeg, prune, plum, pepper, orange, root beer, rum, tomato, raspberry, amaretto, molasses, and vanilla) giving it a distinctive taste become the reason for its popularity.
If you are a pop drinker, chances are, you would prefer Dr. Pepper over Coca-Cola or Pepsi. And when you try it once, you will agree with us that Dr. Pepper tops all its competitors.